Brush cutters weed cutters standard quality 2 cycle gasoline engine for landscaping, agricultural and horticultural business
Brush cutter machine , are mostly used in gardeners and industries around the world. Its high quality engine and raw materials make cutting grass in lawns, gardens, public areas and industries easier. The grass cutter is equipped with a powerful and durable engine, shaft and comes with a wide choice of cutting blades. These features make it a multipurpose strong and a must have tool in your gardening tools. Its super strong construction and large fuel tank adds to many of its advantages.
Features of Brush cutter:
Easy to use With compact designs, these brush cutting tools ensure the ease and convenience of the farmers.
Versatile These cutters come with several blade attachments that modify the device according to the job difficulty.
Power tool  Robust brush cutters easily cleans small unwanted plantations to the roughest patches.
Specification: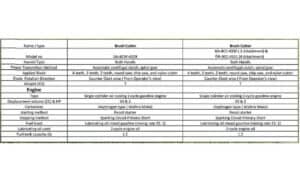 Package Incudes:
Brush cutting machine with cutters – 1no