Hedge trimmers backpack type tiler cultivator garden brush lawn tiller trimmers agricultural equipment farm tools
A hedge trimmer is a gardening tool or machine used for trimming (cutting, pruning) hedges or solitary shrubs (bushes). Different designs as well as manual and powered versions of hedge trimmers exist.
Hedge trimmers are multi-purpose instruments that may be used for more than just shaping hedges. They're also useful for getting rid of overgrown grass, weeds, shrubs, and bushes. Consider the following examples of what hedge trimmers can cut.
Features of Hedge trimmer:
Accuracy in cutting
Easy to use
Long shelf life
Specifications: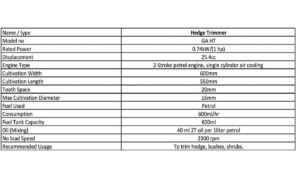 Package Includes :
Hedge Trimming machine with blade – 1 no