Power sprayer high power 2 stroke/4 stroke engine large 20L capacity tank high pressure agricultural sprayers 4 stroke power sprayers price equipment farm tool products
Power sprayer spraying apparatus consisting of a tank together with pressurizing device, line, and nozzle, used chiefly in fire control and in spraying fungicides or insecticides. Spraying devices which are widely used in various farms and fields to prevent the crops from pests. The device is widely applicable for spraying on cotton, rice and various other fruits and vegetable crops. Loaded with large 20 litres tank capacity, there will be enough chemical to let you spray the farms. High-pressure piston pumps are used for achieving proper air pressure in the device.
Features of Power sprayer:
Safe, Quick & Reliable.
Integrated Petrol & Chemical Tank.
Recoil Ignition Makes the Starting Easy.
Spraying Horizontal Range: 10-12 m.
Nozzles to Reduce the Amount of Chemical Fluid Used & Increase Performance.
Specifications: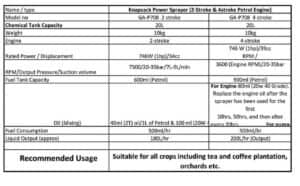 Package Includes:
Heavy tank with 20 Ltr. Capacity
Engine (2 Strokes / 4 Stroke )
Heavy Aluminum pump
Easy Starter
3 Nozzle Lance with an extension lance
90?cm Spray Gun