Garden tool set
Agricultural garden tools lightweight set includes powder coated rust resistant tools for enhanced durability. The tool kit consists of weeder, cultivator, big trowel, small trowel, garden fork, cutter and gloves for an all-in-one gardening experience. The set comes with gloves to not only protect your hands from getting dirty but also to protect you from injuries. A cultivator prepares the soil for plants and sculpts it to improve its structure. The weeder makes the task of removing weeds from the garden easier. A trowel is useful for breaking up the soil, digging small holes, transferring pots and plants and mixing fertilizer or other additives. A garden fork is used for loosening, lifting and turning over the soil and the cutter is used to cut excess growth. All the tools have specially designed handles which provide a firm grip and make gardening an easier task.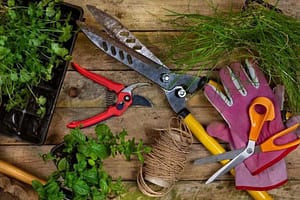 Source: https://media.wd40.in/app/uploads/2021/06/01102725/gardening-tools-horticulture_t20_R6bBEX-1024×683.jpg.webp 
Lawn mower
Lawn mower is a machine for cutting the grass to an even height in your yard. It contains the blades that rotate at a certain speed & cut the grass evenly. Lawn mower machine also called a grass cutting machine. In the beginning, it intended for cutting the grass on the sports field and big gardens. These machines changed over time. From very simple ones becoming the great ones. Without the lawn mower, people couldn't imagine their lives today, especially the ones who have big yards and lawns around their homes. Today, there a lawn robot mower that does the job quite well, and doesn't require people's time. Rotary type lawn mowers are suitable for any type of uneven or plain grass lands available four free wheel makes the machine to move freely on the grass and the adjustments on the machine helps, you to adjust the height of the grass as per your requirements.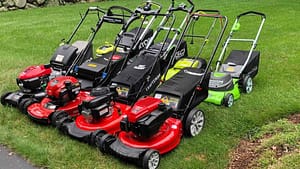 Source: https://reviewed-com-res.cloudinary.com/image/fetch/s–QxTaodoR–/b_white,c_limit,cs_srgb,f_auto,fl_progressive.strip_profile,g_center,q_auto,w_1200/https://reviewed-production.s3.amazonaws.com/1627497682000/lawnmowers.png
Hedge trimmers
Hedge trimmers aren't chainsaws, so they won't cut thick branches – they're designed to cut through material 25mm or less & are ideal for pruning and shaping. If you need to cut thicker material, consider a Lopper or Chainsaw instead. If your hedges and plants extend above your reach, climbing a ladder to trim them can be quite dangerous. A pole hedge trimmer might be more practical in these situations. Soft Start- Reduces to resistance in the start cord by up to 40% and therefore making the product easier to start. Low Noise Engine- Effective engine design for low noise without a loss of power . Tool-less Air Filter Cover Easily access the air filter for maintenance via the tool-less screw cap. Dual Action Blades
-Provides a more efficient cut and showcases an excellent cutting performance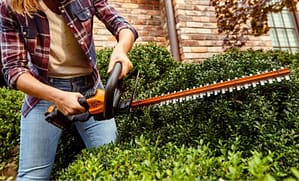 Source: https://www.worx.com/media/wysiwyg/category-pages/hedge-trimmers-and-clippers/category_hedge-trimmers_mobile.jpg
Leaf rake
A leaf rake is a lightweight rake that is shaped like a fan with flat, springy tines radiating outward. This type of rake is designed to be light enough to glide over grass without damaging it and digging into the turf. Leaf rakes are also sometimes referred to as lawn rakes. There are steel, polypropylene or bamboo types of leaf rakes available. The beauty of bamboo or polypropylene leaf rakes over steel rakes is that they are predominantly rust free; the wire holding the tines together may rust if not stored properly or oiled, however. The difference between a leaf rake and a garden rake is function as well as form. Garden rakes are sturdier and heavier than leaf rakes. Their job is working with soil, loosening it, leveling it, etc. Soil is significantly heavier than dry leaves or grass, so a garden rake is built of steel with short, sturdy tines that point downward. These tines are solid and lack the springy quality of leaf rakes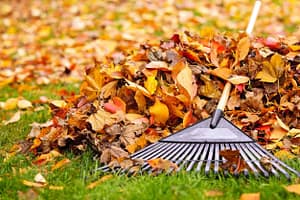 Source: https://www.gardeningknowhow.com/wp-content/uploads/2017/04/leaf-rake.jpg