WHAT IS POWER WEEDER?
Power weeder is a new generation soil preparing machine suitable for all kinds of farms for the purpose of deweeding, ploughing and ridge forming with unique user friendly features. It is an essential tool for every Indian farmer, power weeder' s major applications include intercrop (Min 2 feet) deweeding in coconut farms, cotton, sugarcane plantation, vegetables, horticulture etc.
USES OF POWER WEEDERS
Weeding
Ridge forming – Straight and circular.
Land Cultivation
Soil Levelling
Pump or sprayer using PTO
Dense Grass cutting – mower
POWER WEEDER SPECIFICATIONS:
| | |
| --- | --- |
| Engine | Honda Gx200 petrol engine (5.5 HP) |
| Gear box | 4 speed – 3 forward + 1 reverse gear |
| Min Working Width | 2 feet |
| Max Working Width | 3 feet |
| Overall dimension (L x W x H) | 1400 x 925 x 1130 mm |
| Net weight | 86Kgs |
HOW TO USE POWER WEEDERS:
Soil to be weeded has to be prepared with ample moisture. (15-20%) moisture is preferred.
The primary inspection should be done on the machine before operation.
Weeding is executed.
The land is left to dry in order to decompose the weed as manure to the soil.
After sufficient lead time for decomposition, the soil is hydrated to allow the nutrients to be absorbed by the plants and to promote root growth.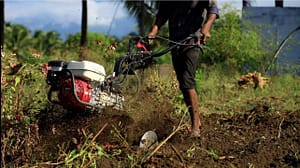 Source: https//www.autofarmindia.com/wp-content/uploads/2021/09/autofarm.png