Agriculture machine tool: novo3D has entered into the agricultural implements to cater the need of high quality, multi-featured and fuel efficient Agriculture machine tool at optimum cost for farmers. This is an attempt to add value to the Agriculture machine tool sector as we felt there is a tremendous need for high-quality products in the market, Our strength is the ability to mix great looks with moderate cost.
Agriculture machine tool and agriculture Implements:
Rotary tiller
Rotary tillers are about making hard jobs easy – they certainly make light work of big plots of compacted earth. Our Rotary tillers are strong and dependable, and they come in a range of engine sizes to ensure there's one right for the job. They're so easy to handle and their special counter-rotating tines enable you to breeze through the soil. It's a doddle Guiding the Rotary tiller over your land feels more like a stroll in the park. That's because the powerful 4-stroke engine has multiple gears and pushes out just the right amount of performance you need – whatever the conditions.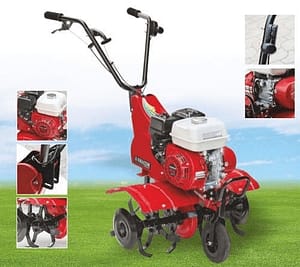 Source: https://jaganhardware.com/pub/media/catalog/product/cache/bcf89e163335c90737ecebed255262e7/t/i/tillers-_frtc_2010.png
Posthole digger
Post hole digging equipment building or fence or planting trees? The right tool makes it a lot easier. Post Hole Digger makes light work of clearing holes. The intuitive HP unit automatically senses overload situations and will turn off to prevent kickback scenarios, saving itself and you from damage. A heavy duty, 200mm auger bit attachment is perfect for digging fence post holes and spaces to plant trees in various agricultural settings. You'll be able to select from two speeds and a reverse function so that you can meet the needs of your specific situation. The wide frame is easy to grip and the intuitive control panel interface communicates with the post hole digger throughout operation for reliability and safety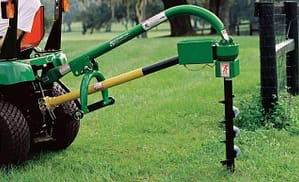 Rotavator
A Rotavator is a helpful piece of machinery when it comes to soil preparation. This versatile piece of farming equipment is a motorized machine that uses rotating blades to turn the soil. In their essence, Rotavators are earth turning equipment that performs a similar function to tillers. Rotavator is a versatile tractor implement to perform different soil functions such as mixing, pulverization, puddling & leveling at the same time. Rotavator is very useful for removing the past crop residues from the field and preparing the soil for the next crop. It breaks up the hardpan layers of the soil and makes it levelled for sowing. Its strong frame assembly helps the implement to work in different types of soil without any wear and tear. It loosens and aerates soil up to 7 inches deep.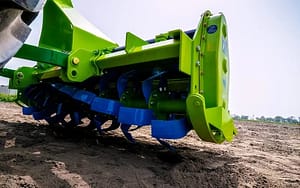 Source: https://mlnk3eg9ztfs.i.optimole.com/Dm8qplg-UIiCLdLW/w:800/h:500/q:auto/http://jagatjitgroup.com/wp-content/uploads/2021/12/Artboard-13.jpg   
Cultivator
Tractor cultivator, farm implement or machine designed to stir the soil around a crop as it matures to promote growth and destroy weeds. The tractor cultivator can be used on a patch of land will cultivate the land, making it ready to plant seeds. With the Grass mode the player can regrow grass on patches of dirt, regrow lily pads on water, create sand on the shoreline and regrow cattails in certain areas around the shore.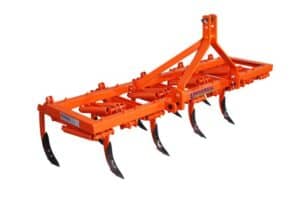 Harrow
A disc harrow is a harrow whose cutting edges are a row of concave metal discs, which may be scalloped, set at an oblique angle. It is an agricultural implement that is used to till the soil where crops are to be planted. Hydraulic tractor plough also used to chop up unwanted weeds or crop residue. The disc won't be able to effectively break up and toss the soil, which leads to shallow cuts. In most conditions, the optimal operating speed is approximately 4–6 miles per hour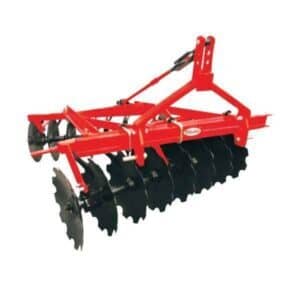 Source:https://tractorguru.in/blog/wp-content/uploads/2021/01/u-oi-kamodh-12-34-1604298152-harrow-compressed-300×300.jpg
Mini power weeder
The mini power weeders is yet another product. They are suitable for farmers with under 5 acres of landholding and for those who are selecting automation over manual labor for weeding and ploughing. 
EASE IN SERVICEABILITY – The mini power weeder is powered by a 5.5 HP Honda Gx 200 engine and the belt type transmission is advantageous because of its ease in serviceability. Any mechanic who could service a two-wheeler or bike will be able to service this machine with ease
USER FRIENDLY – The Mini Power Weeders is extremely user-friendly and can be operated by female labourers with ease. This weeder comes with a height adjustment feature which helps farmers reduce strain to the back and helps in the control of the product. It can be used for 6 to 8 hrs a day by one individual and can cover 1 acre of land within 4hrs of time.
LONG-LASTING – This mini power weeder can reach up to a depth of 6 inches and cut weed up to a height of 3 feet. This effectively removes the root of all weeds and reduces the number of weeding cycles. The blades of the tiller are made of boron and can still very hard soil with rocks the size of a palm. These blades are self-sharpening and therefore provide a life of 100 to 150 hours depending on the condition of the soil.
CROP SAFETY – The width of the weeder's rotary segment is 40cm and can be extended upto 60cm. The blades have a safety disc that protects the crop from the blades of the weeder. This feature is essential for any weeder as the safety of the crop is of utmost importance. The spacing is best suited for all vegetable crops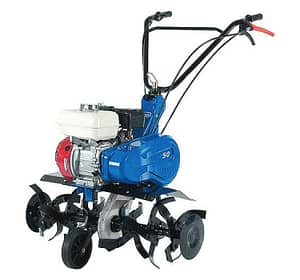 Source: https://www.autofarmindia.com/wp-content/uploads/2021/12/TERRATURN-XL-375-350.jpg